New Fuso Rosa Protects Precious Cargo with Class-Leading Safety

The new generation Fuso Rosa features the most advanced safety features to ever appear in the Australian light duty bus class.
Every new generation Rosa will be protected by a comprehensive range of safety features including Advanced Emergency Braking, which can perform full emergency braking in the event of a potential collision. This advanced radar-based system can even detect, and begin braking for moving pedestrians.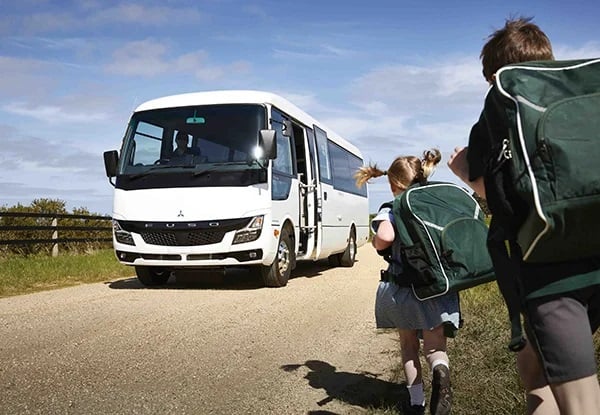 A Lane Departure Warning System is also standard, as is Electronic Stability Program, driver and front passenger airbags, height adjustable LED headlights, Hill Start Assist and a reversing camera.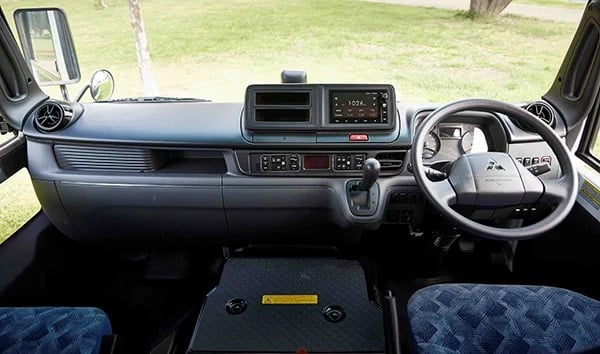 There are also three-point lap sash seatbelts and four exits. The new generation Rosa also features a transom window on the passenger side to further enhance its excellent visibility.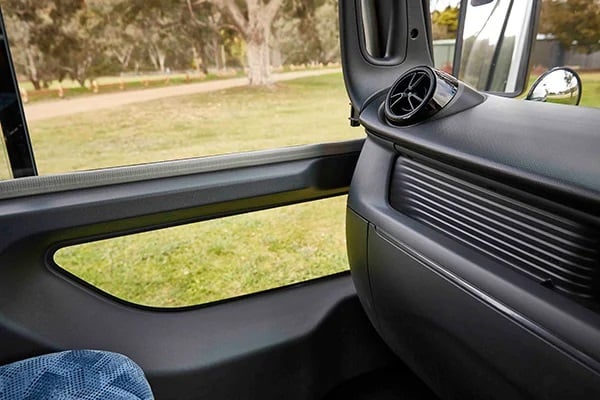 Fuso has made a range of significant changes inside and outside the Rosa, which is available with 22 or 25 seats, further improving the most popular bus of the last decade in Australia.
Daimler Truck and Bus Australia President and CEO, Daniel Whitehead, says the safety features of the new Rosa are at the heart of its appeal.
"These buses carry our most precious cargo, whether it be on school runs or nursing home day trips, so it is imperative fleet operators consider their safety features or lack thereof," he says.
"There is only one light duty bus in Australia with Advanced Emergency Braking, only one with Lane Departure Warning and only one with Electronic Stability, and that is the new Fuso Rosa. There are many other benefits introduced by the upgraded model, but nothing as important as the features that will help protect the ones we love," Mr Whitehead adds.
One thing that has not changed with the new Rosa is its generous five year/200,000km warranty, giving owners' real peace of mind.
Fuso has managed to further improve uptime and help reduce running costs by increasing Rosa's service intervals to 15,000km.
New for Rosa is an efficient 3.0-litre four-cylinder turbo diesel common rail engine with the most power and torque in its class - 129kW and 430Nm. This advanced unit, which features a variable geometry turbocharger, is smaller and lighter than the engine it replaces, but is also more powerful. It also meets stringent Euro 6 emission standards, well ahead of Australian regulated standards, which ensures dramatic reductions of nitrogen oxide and particulate emissions.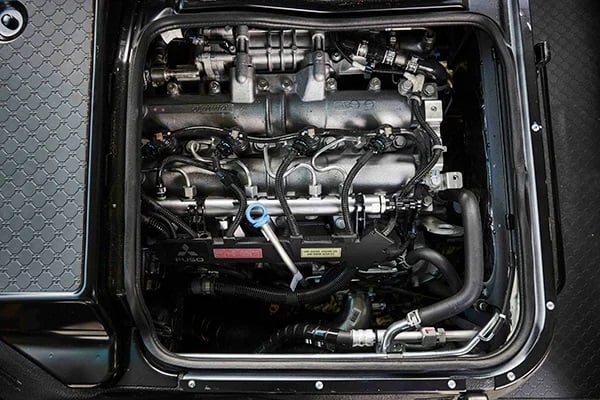 Fuso is also introducing its advanced Duonic Automated Manual Transmission, which features six gears, to the Rosa range. This advanced dual clutch transmission delivers fuel efficiency improvements as well as fast and smooth shifts. It also features a handy creep function for easy low-speed manoeuvering. Customers also have the option of selecting a five-speed manual transmission.
Fuso has significantly upgraded the interior of the Rosa, with a new-look dashboard that is both practical and stylish. It now incorporates a passenger side airbag, as well as a new climate control display and new switches for key controls that are within easy reach of the driver. A new high-resolution 7-inch touchscreen display with internet and digital radio has been introduced, along with a new electronic instrument cluster that presents a range of bus data for the driver including fuel efficiency information, maintenance status, date and outside temperature. There is also a repositioned handbrake lever, which now sits to the left of the driver's seat. Fuso has also taken the opportunity to move the transmission shift lever from the floor onto the dashboard for easier control.
The Rosa also benefits from new bright LED passenger lamps, while the rear air-conditioning system with integrated roof vents has been retained. Deluxe models also feature new high-backed cloth seats.
A new flat-floor design not only makes it easier for passengers to get in and out of their seats, but also allows for simpler aftermarket wheelchair lift installations.
The Rosa continues to feature independent front suspension for optimum comfort and handling as well as rack and pinion steering for precise feel. It has a class leading turning circle of 12.6 metres (22 seat) and 14.2m (25 seat). The Rosa now also features disc brakes on all four corners and rear suspension stabilisers.
Fuso has freshened the exterior design of the Rosa, giving it a stylish and modern look thanks largely to new design language and striking LED headlights.
It is available in Standard and Deluxe trim levels to help customers the ability to choose the Rosa that is right for them.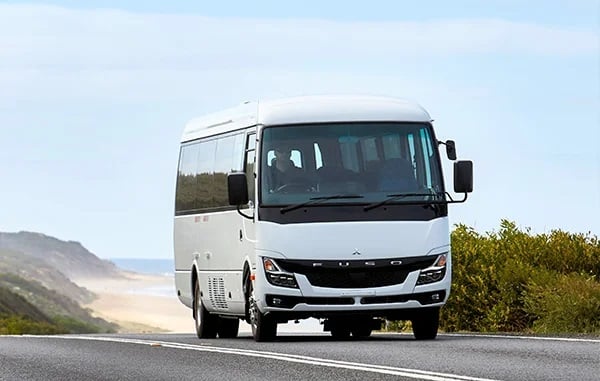 FUSO ROSA SPECIFICATIONS
SEATS
22 or 25
ENGINE
3.0-litre four-cylinder 4P10 Euro 6
POWER
129kW @ 3500rpm
TORQUE
430Nm @ 1600-2860rpm
TRANSMISSION
Six-speed Duonic dual clutch Automated Manual Transmission, with manual or automatic modes, or
Five-speed manual
WARRANTY
5 years/200,000km
SUSPENSION
Front independent double wishbone with coils, shock absorber and stabiliser, and
Rear leaf with shock absorbers and stabilser
STEERING
Rack and pinion
STEERING WHEEL
Tilt and scope adjustable
BRAKING
Disc brakes front and rear, exhaust brake
DIMENSIONS
22 Seats – 6990mm long, 2070mm wide, 2755mm tall, 3995mm wheelbase
25 seats – 7730mm long, 2070mm wide, 2755mm tall, 4550mm wheelbase
FUEL TANK
100 litres
TYRES
205/85R16
SERVICE INTERVALS
15,000km
As standard, the Rosa features Advanced Emergency Braking, Lane Departure Warning System, Electronic Stability Program, Anti-skid disc brakes, a driver and front passenger airbag, height adjustable LED headlights, Hill Start Assist and a reversing camera.
ADVANCED EMERGENCY BRAKING SYSTEM
A system designed to avoid or mitigate collision damage uses a radar sensor at the front of the bus and can detect potential collisions with moving and stationary vehicles, as well as moving pedestrians. When a collision is imminent, the driver receives an audible and visual warning from the dashboard shortly followed by automatic braking. The system is dynamic and its algorithm allows it to vary activation times to best mitigate collision damage in a number of situations.
LANE DEPARTURE WARNING SYSTEM
LDWS alerts the driver in case of unintentional lane departures and can help prevent crashes or minimise the impact in case of accidents. LDWS is an advanced safety technology that alerts drivers when they unintentionally drift out of their lanes without a turn signal. It uses a camera to monitor lane markings. When it detects that the vehicle is veering out of its lane, an audible and visual alert warns the driver of the unintentional lane shifts so that the driver can steer the vehicle back into its lane.
The 3.0-litre 4P10 meets the strict Euro 6 emissions standards. It does this by using Selective Catalytic Reduction (SCR) and a Diesel Particulate Filter (DPF). The lightweight engine features Exhaust Gas Recirculation (EGR) and Variable Geometry Turbocharger (VGR) in addition to common rail fuel injection. All this enables the engine to produce the most power (129kW) and torque (430Nm) in its class.
The Duonic 2.0 is an Automated Manual Transmission using a dual clutch system. Because it is an AMT, it does not waste energy like a traditional torque convertor automatic and is therefore more fuel efficient. The Duonic 2.0 electrically controls two sets of clutch/gear arrangement and transmits power in the most efficient, smoothest and quickest way possible. It features a creep mode for easier low speed use and can be operated in manual or automatic modes.
LED headlamps
Lane Departure Warning System (LDWS)
Advanced Emergency Braking System (AEBS)
Electronic Stability Program (ESP)
Hill Start Assist
Driver and front passenger airbag
LED room lamp
Audio harness
Manual air-con and heater
Low back passenger seats (vinyl)
Passenger seats with two-point belts
Automatic foldable entrance door
LED headlamps
Lane Departure Warning System (LDWS)
Advanced Emergency Braking System (AEBS)
Electronic Stability Program (ESP)
Hill Start Assist
Driver and front passenger airbag
LED room lamp
Audio harness
Full auto airconditioning
High back passenger seats with three-point belts
Front window black-out
Automatic swing entrance door
LED fog lamps
Cornering lamps
Alcoa alloy wheels