Australian Reign of FUSO Shogun Begins

Fuso has taken charge with a new heavy duty truck at the Brisbane Truck Show called Shogun.
Shogun was the name for all-powerful military leaders, as appointed by the emperor, who ruled pre-modern Japan for centuries. The Fuso Shogun is taking the lead in Australia by introducing advanced safety technology, strong and efficient Euro 6 engines and delivering high levels of comfort and refinement. The Shogun will be available for sale at Fuso dealers across Australia from June 1.
"The Shogun is a revolutionary model for Fuso and the Japanese heavy duty truck segment in Australia," says Fuso Truck and Bus Australia Director, Justin Whitford.
"It will set new standards for Japanese trucks and deliver our customers a clear advantage thanks to cutting edge Daimler technology that compliments its legendary Fuso toughness."
The Shogun is powered by the recently developed Daimler OM470 11-litre in-line six-cylinder common rail engine which features a special pressure booster and an asymmetric turbocharger that helps deliver more pulling power lower in the rev range. A key feature of the power unit is a potent decompression engine brake with up to 340kW of force.
The introduction of the new powerplant means Fuso customers will also benefit from extended service intervals, further driving down running costs.
The engine is coupled to a state of the art 12-speed automated manual transmission that reduces driver fatigue and makes low-speed manoeuvring easy.
The 11-litre engine will be available with two ratings; 395hp (290kW) and 2000Nm and 455hp (335kW) and 2200Nm. Other outputs and displacements are currently under consideration.
The OM470, which exceeds the ADR 83/03 standard, has delivered fuel economy improvements and a reduction in AdBlue consumption during testing in Japan, New Zealand and Australia.
The Shogun features the latest electronic safety systems and comfort features including adaptive cruise control (Proximity Control Assist) with stop and go function for heavy traffic, Advanced Emergency Braking, which can even initiate braking for moving pedestrians, Lane Departure Warning and Electronic Stability Control.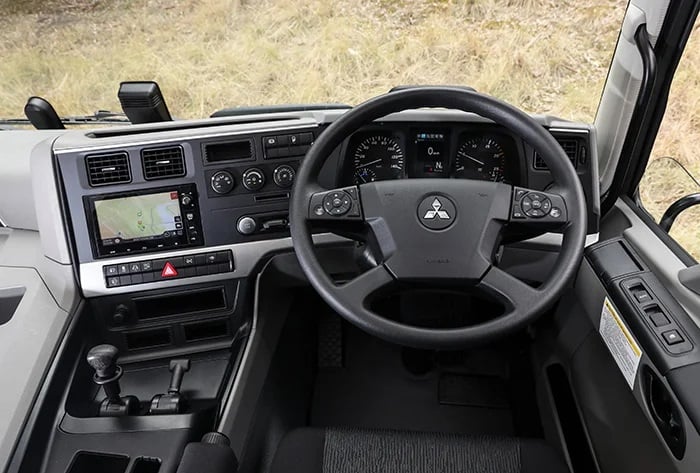 An all-new interior delivers a high level of refinement, with Fuso engineers focusing on the suppression of noise vibration and harshness. There is also a fresh ergonomic layout with a driver-focused dashboard design that ensures controls are within easy reach. Many of the systems can be operated by steering wheel mounted buttons that enable drivers to keep their hands on the wheel.
A new 7-inch touch screen will also make its debut in the new Shogun, complete with Bluetooth audio streaming and phone connectivity as well as truck-specific satellite navigation.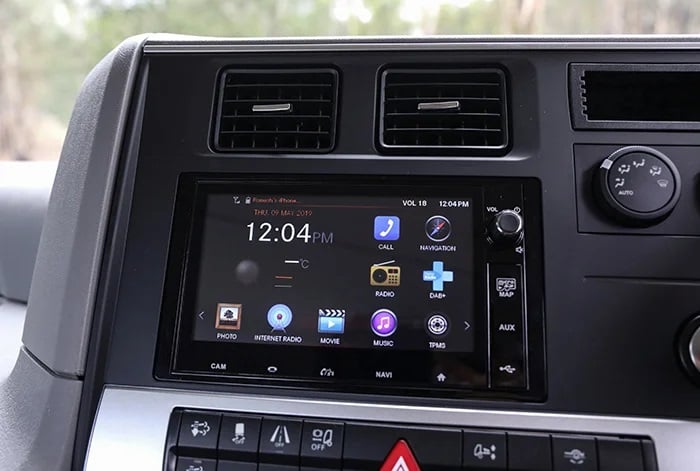 Fuso will launch the Shogun with prime mover and rigid options covering everything through to B-double work, including 6x4, 8x4 with load share and 4x2 configurations, and will offer steel and air suspension varieties. Gross Combination Weights run from 40,000kg to 63,000kg.
It will be covered by a manufacturer's warranty of five years or 500,000km (whichever comes first).
Fuso also presented the all-electric eCanter at the Brisbane Truck Show. It is the world's first series produced electric truck and currently features in a range of customer fleets in the US, Europe and Japan.
Other models on the Fuso stand included the medium duty Fighter and the small Canter model, which now features Advanced Emergency Braking and other best-in-class key safety features.
Note: The new vehicle warranty applies only to trucks and buses registered and operated in normal conditions in Australia. Vehicles operated in severe service applications, such as off-road, underground mining, crop spraying or on the beach are covered under warranty for 12 months or 50,000km, whichever comes first.