Driver praises 'smooth' zero-emission Fuso beer truck

Quick, quiet and efficient.
That's how Fuso eCanter driver Lance Valentine describes the fully-electric BevChain truck he uses to deliver Toohey's beer kegs to Sydney suburbs.
Each day, Lance completes three to four loops out from Linfox subsidiary BevChain's Lidcombe base, delivering fresh Toohey's kegs to pubs in a radius of 40km.
Lance plugs the truck into a fast charger when he returns to the BevChain base in order to briefly top up the batteries, and heads out again.
Depending on traffic conditions and route, total mileage for Lance's daily deliveries could be up to 150km.
"When I get back to the yard after the first run, the battery still has decent range thanks to some regenerative braking," he says.
"With the fast charger, I easily top it up in a very short time and that gives me enough to get out and back without having to worry about range," Lance adds.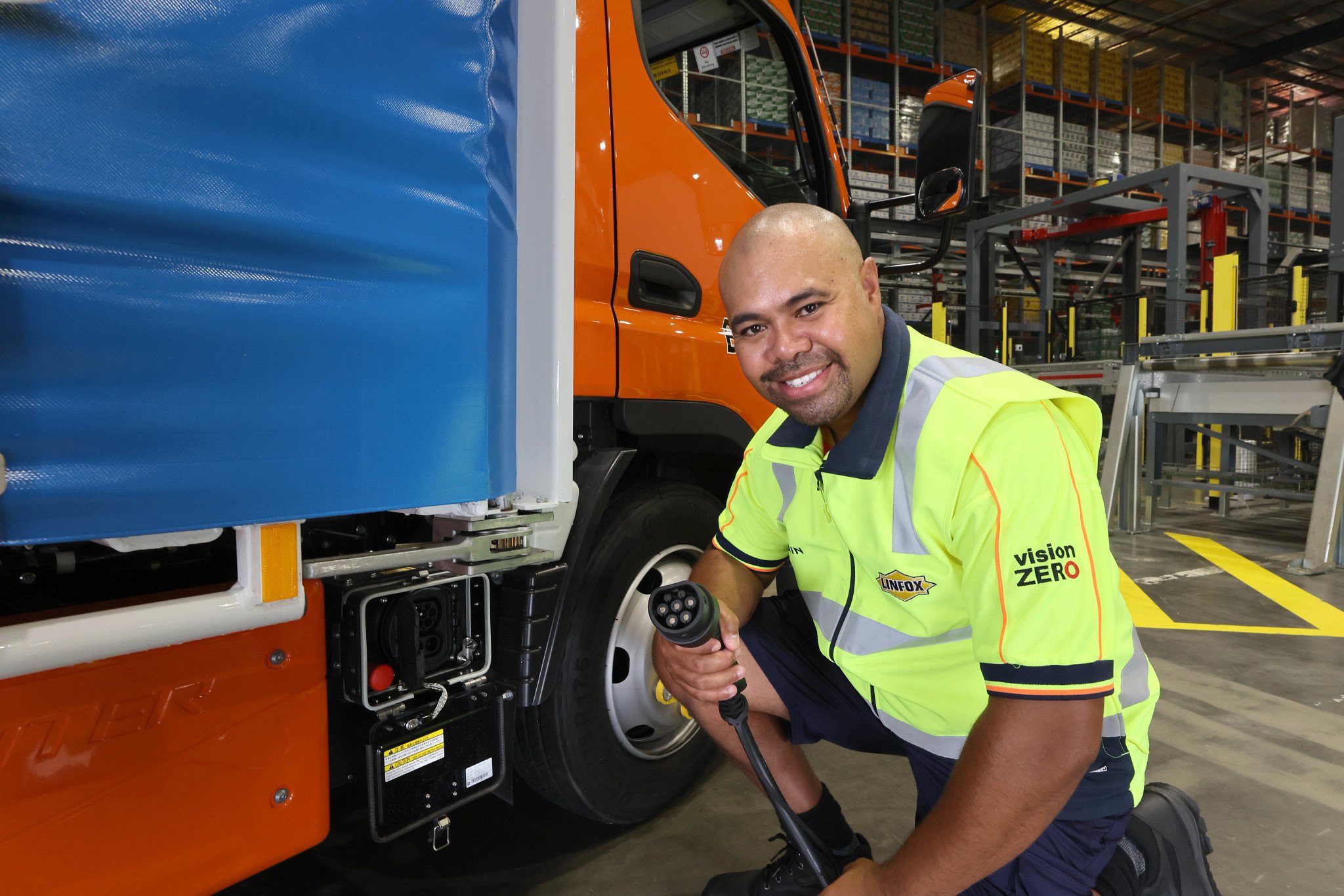 The eCanter uses six liquid-cooled lithium ion batteries mounted in the frame that store 82.8kW/h of electricity and feed a permanent magnet synchronous motor.
As for what it is like to drive the pioneering eCanter, Lance is clear.
"It is smoother, more comfortable and there is hardly any noise," he says. "It is also really easy to drive."
The near-silent operation is also a big plus for residents in the areas the Toohey's kegs are delivered.
"Beyond the fact it is producing zero emissions, the quiet operation is also really important," he says.
"Driving around heavily populated areas without the noise of a diesel is a big positive when you think about noise pollution in a neighborhood," he says.
Lance didn't know what the electric truck's performance would be like and certainly didn't expect it to be quick.
"I had never driven an electric car, so I didn't know that they have really good performance and are quite zippy," he adds.
The eCanter's power output is 135kW and 390Nm of torque can be delivered the moment the accelerator pedal is pressed.
Lance also likes using the electric version of engine braking that also recharges the battery when pulling up the truck. "The regenerative braking is so good that I hardly have to use the brakes," he says.
"I tend to look ahead and see what I can do to harvest energy with the regenerative braking, like lifting off to charge going down a hill or using the regenerative braking to pull up rather than use the brakes," he says.
It is so effective that the traditional brakes are used very little.
Lance says the truck, which carries a special paint scheme explaining that it is fully electric, gains a lot of attention.
"It is a real head-turner," he says.
"I have a lot of people come up to me and ask about it. They mainly want to know whether it really is an electric truck," he explains.
"When I drive off hardly making a sound, it just blows them away."
As for his role as one of the few drivers to pilot an electric truck in Australia, Lance says it is something to be proud of.
"I'm really happy to drive a zero emissions truck and actually be part of history," he says.
Sustainable fleet plays a major role in Linfox's sustainability journey through its Green Fox program, established in 2007. Linfox strives to protect the environment through a shared vision with its customers and partners.
The eCanter was launched globally in 2017 and was introduced to Australia last year after a local evaluation program.
Leading transport operators have adopted the eCanter including Linfox (which operates trucks with partners Bunnings and Coles) as well as Australia Post and Centurion.
Unlike other light duty electric trucks available in Australia, the eCanter features a full suite of active safety features including Advanced Emergency Braking System (AEBS), which uses radar to detect potential collisions and brake hard even in the event the driver fails to do so. This system can even automatically begin braking if it detects moving pedestrians, which is especially important in urban areas. Other safety features include a Lane Departure Warning System, Electronic Stability Control, Hill Start Assist, a reversing camera and driver and passenger airbags.