Electric Fuso Canter E-Cell Fleet Starts Work in Germany

The first all-electric truck fleet test in Germany started overnight. Fuso is working with the Municipality of Stuttgart and logistics company Hermes, which are running five electric Canter E-Cell trucks.
The six-tonne trucks will not be spared from hard work during a 12 month trial. Two have been fitted with hydraulic tipper bodies and will be used for road construction and landscaping, while the other two run box bodies and will be used for waste bin transport and furniture delivery. Hermes will also carry out parcel delivery with one E-Cell test truck in Stuttgart.
An important test partner of Mercedes-Benz since as far back as the 1990s in the area of alternative commercial vehicle technology, Hermes has more recently tested the electric Vito E-Cell on parcel delivery routes in Berlin and Hamburg. It aims to halve the CO2 emissions of its fleet by 2020.
Fuso, part of Daimler, the world's largest truckmaker, already sells an advanced diesel-electric Canter Eco-Hybrid model in key markets including Australia, while also focussing on developing a fully-electric E-Cell model. Dr. Wolfgang Bernhard, Member of the Board of Management of Daimler AG and Head of Daimler Trucks and Buses, as well as Marc Llistosella, President and CEO of the Mitsubishi Fuso Truck and Bus Corporation (MFTBC) and Head of Daimler Trucks Asia, handed over the special trucks to Stuttgart's Lord Mayor, Fritz Kuhn at a ceremony overnight.
Dr. Bernhard said: "Today's internal combustion engine is highly efficient, eco-friendly and, above all, clean – and will long remain without alternative in long-distance transport. The situation is different when it comes to urban short-radius distribution, where a switch to electric trucks will be a technical and economic possibility within a few years time. In this way, we are making a small yet important contribution to urban mobility in Stuttgart. Daimler Trucks is at the forefront of this process – and is today, together with the Municipality of Stuttgart and Hermes, taking a key step towards market maturity."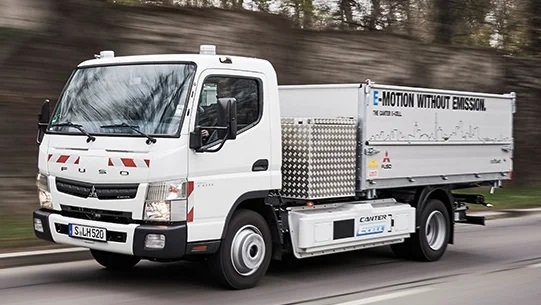 Stuttgart's Lord Mayor, Fritz Kuhn, said this would be an important test of emission-free light-duty trucks in urban transport: "Sustainable mobility is a key issue for cities and electric mobility is an important element. This is where the Municipality of Stuttgart is showing the way. We've decided to make a change to our fleet: all new cars purchased by the Municipality will be electric. I think this sends out a very strong signal. So we're also very happy to test the four Canter E-Cell in day-to-day city traffic."
Hermes Logistics Group Germany Managing Director Operations, Dirk Rahn, said: "Daimler and Hermes are united by a long tradition in the promotion of alternative drives. As a pioneer in the industry, we were among the first in the 1990s to test the early electric vehicles under real-world conditions. We are similarly proud today to be using the new electric 6-tonne truck for our parcel deliveries."
Fuso gathered initial experience with fully electric Canters in Portugal in 2015. The Canter E-Cell proved a great success in this fleet test involving eight vehicles. It was used not only by courier and freight-forwarding companies, but also by local authorities and urban horticultural businesses. The batteries took around seven hours to charge at a 230 volt / 32 ampere power point, while the time dropped to just one hour when using a fast-charging system (390 V/100 A).
The results of this one-year practical trial show that the vehicles stood the test of daily use in short-distance delivery and urban transport. With a range of over 100 kilometres, the Canter E-Cell vehicles exceeded the average distance that many trucks used in light-duty short-radius distribution cover each day. Based on the current cost of diesel and electricity in Portugal, the trial also produced savings in operating costs of up to 64 percent compared with a conventional diesel truck.