Fuso eCanter Passes the Test in Australia

The all-electric Fuso eCanter has completed a comprehensive local testing program ahead of its Australian launch later this month.
Starting in the middle of last year, the program involved the eCanter running around the clock across with three shifts in order to test the first Original Equipment Manufacturer (OEM) all-electric truck to be available in Australia.
The all-electric model had already gone through a substantial global testing program before it was launched in 2017 and operators in the United States, Europe and Japan have since covered more than three million kilometres of real world driving.
Key Australian customers ran an eCanter with a pantech body as part of an evaluation in mid-2019 and came away impressed with the truck that produces zero local emissions.
An updated eCanter was used for the recent Australian test program, which logged important information about the performance of the truck running fully loaded at its 7.5 tonne Gross Vehicle Mass capacity around the clock, as well as data related to its recharging. The eCanter performed strongly in the test, unfazed by tough Australian conditions.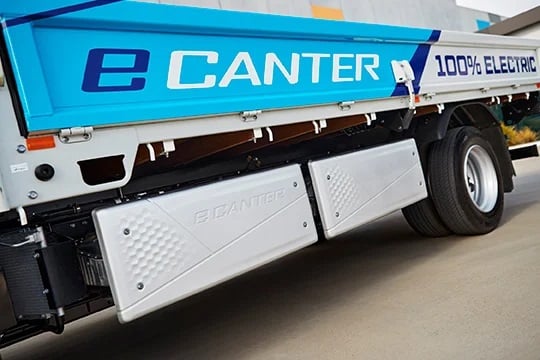 The eCanter was developed from the ground-up using Daimler's vast research and development resources and offers Australian customers a fully-integrated OEM all-electric truck that will be supported by a national dealership network.
"Our customers are very excited about the impending arrival of the eCanter," says Fuso Truck and Bus Australia Director, Alex Müller.
"They are pleased to be able to choose an all-electric truck that has been designed, developed, produced and locally tested by Fuso, which will be supporting the vehicle on the ground in Australia with our comprehensive dealership network," he says.
Like all Canter 4x2 models, the eCanter is equipped with a long list of unmatched safety features including Advanced Emergency Braking System, Lane Departure Warning System, Electronic Stability Control, Hill Start, a reversing camera and driver and passenger airbags. Fuso includes these key safety features at no extra cost to customers.
The eCanter will feature on the Daimler stand at the Brisbane Truck Show to be held at the Brisbane Convention and Exhibition Centre from May 13 to 16.