Fuso Launches 510HP Shogun, Setting New Torque Record for the Japanese HD Class in Australia

Fuso has rocked the Japanese heavy-duty truck segment with the Australian launch of the powerful Shogun 510. Specially developed for Australia, the range-topping Shogun packs a mountainous 2500Nm of torque and 510 horsepower, thanks to an advanced Daimler-sourced 13-litre Euro 6 engine.
The Shogun 510 is the most powerful Euro 6 Japanese heavy-duty truck available and holds a massive torque advantage over its rivals. Its Euro 6 rating and proven fuel efficiency are big pluses for fleets with an interest in emission reduction.
Designed for metro and intrastate transport, the Shogun 510 is rated at 63-tonnes Gross Combination Mass and is capable of hauling a single or double trailer set or working as a brawny tipper and dog combination. It is available as a 6x4 prime mover or as a rigid.
Australian interest in the 13-litre Shogun 510 is strong and more than 50 orders were placed prior to its official launch.
The Shogun 510 was developed following a request from Daimler Truck and Bus Australia Pacific, explains its President and CEO, Daniel Whitehead.
"We pushed hard to get the 13-litre engine into the Shogun for our market because our customers made it clear they wanted a Japanese heavy-duty truck with serious performance," he says. "We're glad it has joined the line-up because the Shogun 510 is the perfect example of how the global strength and engineering might of Daimler Trucks gives our Australian customers a real competitive advantage."
The 510's 13-litre Daimler OM471 six-cylinder engine hits its maximum power output at 1600rpm while its maximum torque of 2500Nm is available from just 1100rpm. Optimal drivability is assured with 86 per cent of maximum torque available from just 800rpm, while 84 per cent of maximum torque is still available at 1700rpm.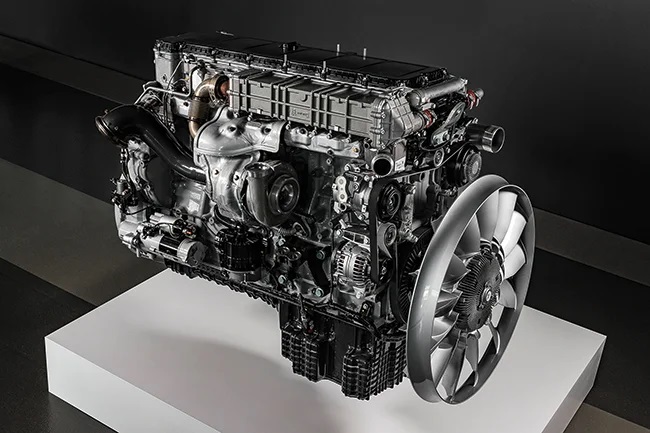 The advanced OM471 six-cylinder features an asymmetric turbocharger and the latest generation common rail system with variable pressure boosting for ultimate fuel efficiency.
A 12-speed fully automated transmission (AMT) features the clever EcoRoll system, while a powerful three-stage engine braking system gives the driver more control.
Fuso engineers have carried out extensive testing of the Shogun 510 throughout the development process, including an outback Australian test of an initial prototype in 2017. Extensive hot weather durability testing was also carried out in South Africa and a final production-ready test was undertaken in Australia and New Zealand.
The Fuso Shogun is now available with 8-litre, 11-litre and 13-litre engines, with 360, 400, 460 and now 510hp. Configurations include 6x4 and 4x2 prime movers and tippers and 8x4, 6x4 and 6x2 rigids, including the recently-introduced 14-pallet Shogun 360. There is a mixture of air and steel spring rear suspension options and Limited Slip Differentials (LSD) are available.
An active safety package that sets a new bar for safety in the Japanese heavy-duty class is standard across the range.
Fuso Truck and Bus Australia Director, Alex Müller, says the arrival of the Shogun 510 represents an important milestone for Fuso in Australia.
"The introduction of the highly anticipated Shogun 510 means Fuso is now an even stronger contender in the Australian heavy-duty segment," Mr Müller says. "Fuso has been steadily growing our share of the heavy duty market and the new 510 model, as well as the renewal of the entire Shogun range, will help us attract even more heavy-duty customers. It is another example of Fuso delivering practical innovations that help our customers get the job done reliably and safely."
SHOGUN SAFETY AND COMFORT UPGRADES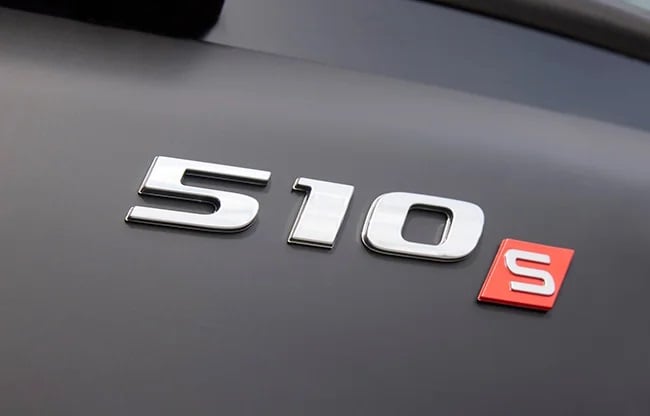 The new Shogun range further raises safety levels with new and upgraded safety features that are unmatched by its Japanese heavy duty rivals. Upgraded Advanced Emergency Braking System (AEBS) technology and an enhanced Active Attention Assist (AAA) system further improve Shogun's impressive safety credentials.
Rigid Shogun models, with a wheelbase of more than 4300mm, come standard with Active Sideguard Assist. The latest version of this smart safety system uses a radar to detect a vehicle, cyclist, pedestrian or any physical obstruction on the passenger side blind spot when the truck turning left or moving into a lane to the left and issue a warning. It can now also initiate braking in addition to the warning in order to avoid or mitigate a collision or impact at speeds up to 15km/h.
All Shogun models benefit from the latest generation of the AEBS that now uses camera and radar camera technology to provide enhanced pedestrian sensing capability, making it able to completely stop for a moving pedestrian in the event the driver does not respond to an audible warning. This system is standard on all Shogun models, as is radar adaptive cruise control.
Lane Departure Warning System (LDWS), a driver airbag, Electronic Stability Program (ESP) and Hill Start System (HSS) assistance function continue as standard elements of the Shogun safety package.
Also new across the range is Intelligent Headlight Control, which automatically turns on and off the truck's highbeam function in response to traffic and is standard. Daytime LED running lamps, positioned below the main headlight assembly are now also standard on all new Shogun models.
The ergonomic Shogun interior, complete with its push button start, 7-inch high resolution touch-screen centre display with easy to reach controls, carry over unchanged, but the range-topping 510 model gains a premium leather-wrap steering wheel.
DRIVING DOWN THE TOTAL COST OF OWNERSHIP
Shogun models feature class-leading servicing intervals across the range, helping drive down the cost of ownership. Customers can enjoy increased peace of mind with the option of popular service plans, which ensure their truck is serviced with genuine parts, by factory-trained technicians across the expansive Fuso network.
The Shogun is also backed by a generous Fuso manufacturer warranty that covers the truck for five years or 500,000km, whichever comes first.
Customers can also benefit from Daimler Trucks financial options including asset loan, asset hire, finance lease and operating lease as well as a Guaranteed Buy Back program for added surety.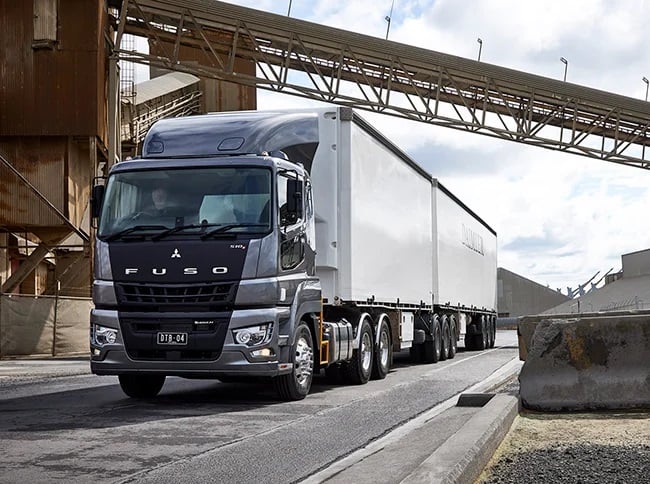 SHOGUN 510
| | |
| --- | --- |
| VARIANTS | 6x4 Prime Mover and 6x4 rigid |
| ENGINE | 12.8-litre six-cylinder (OM471) |
| EMISSION RATING | Euro 6 |
| PERFORMANCE | 510hp and 2500Nm |
| TRANSMISSION | 12-speed fully automated transmission (AMT) |
| GVM | 26,000kg |
| GCM | 63,000kg |
| REAR SUSPENSION | Air |
SHOGUN 460
VARIANTS
6x4 Prime Mover, 6x4 rigid and 8x4 rigid
ENGINE
10.7-litre six-cylinder (OM470)
EMISSION RATING
Euro 6
PERFORMANCE
455hp and 2200Nm
TRANSMISSION
12-speed fully automated transmission (AMT)
GVM
24,000kg - 30,800kg
GCM
53,000kg - 63,000kg
REAR SUSPENSION
6x4 Prime Mover - Air
6x4 rigid - Air or Steel
8x4 rigid - Air or Steel
SHOGUN 400
VARIANTS
4x2 Prime Mover, 6x4 rigid and 8x4 rigid
ENGINE
10.7-litre six-cylinder (OM470)
EMISSION RATING
Euro 6
PERFORMANCE
396hp and 2000Nm
TRANSMISSION
12-speed fully automated transmission (AMT)
GVM
16,500kg - 30,800kg
GCM
40,000kg - 53,000kg
REAR SUSPENSION
6x4 Prime Mover - Air
6x4 rigid - Air or Steel
8x4 rigid - Air or Steel
SHOGUN 360
| | |
| --- | --- |
| ARIANTS | 6x4 and 6x2 rigid 14-pallet tautliner |
| ENGINE | 7.7-litre six-cylinder (OM936) |
| EMISSION RATING | PPNLT (Euro 6 equivalent) |
| PERFORMANCE | 360hp and 1400Nm |
| TRANSMISSION | 12-speed fully automated transmission (AMT) |
| GVM | 25,000kg |
| GCM | 25,000kg |
| REAR SUSPENSION | Air |