Fuso Shogun 360 delivers for Tasmanian operator

Tasmanian transporter Stephen Gray and his wife Wendy started-off their business 40 years ago with a second-hand truck worth about $5000.
Now they have a fleet of four latest model trucks, including a brand-new Fuso Shogun 360.
Stephen Gray Transport operates out Smithton, which sits at the far North East Coast of Tasmania.
It covers all types of freight delivery, from refrigerated cargo to containers, cars and tractors, servicing Burnie, Devonport and Launceston. Business has been so strong that the company has decided to add a new heavy-duty truck. With a mix of European and Japanese trucks in his stable, Stephen Gray started the selection process with an open mind.
The truck he ended up selecting was a Fuso Shogun 360 provided by Blake Williams at Burnie CJD, who delivered the truck with his own ute on the back so that he could drive it back.
Blake organized the tilt-slider body from CTE Custom Truck Equipment in Dandenong, Victoria, and it handles various cargo that including 20ft containers, telehandlers, 4WDs, cars and a huge array of everything else that needs shifting, with ease.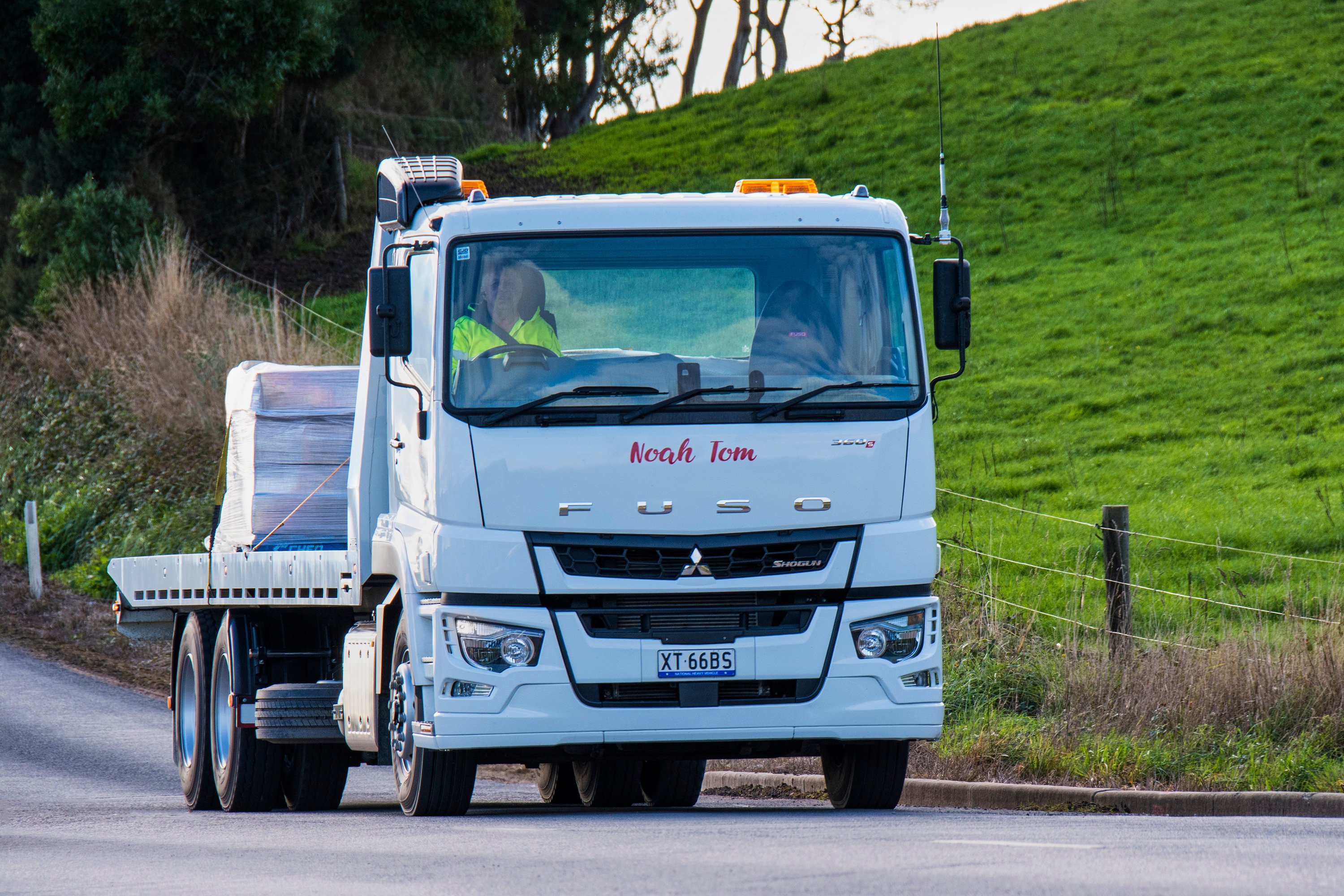 The truck was specified as a 6x2, a decision that some would suggest was brave on an island that gets more than its share of rain, but Stephen says traction is not an issue as long as you don't stray onto surfaces that you shouldn't be on.
So why go 6x2 instead of the traditional 6x4? "Choosing a single rear axle rather than a tandem increases my payload by around 600-700kg, which is a lot," Mr Gray says.
"It also reduces wear and saves fuel, so it makes a lot of sense for me."
The Shogun 360 is the junior burger of the Shogun range with the smaller displacement 7.7-litre six-cylinder from the Daimler Truck portfolio, but it gets along nicely with 360hp and 1400Nm of torque at the ready. Stephen describes the fuel economy as excellent, loaded or not. The engine meets the strict Euro 6-equivalent JPNLT emission standard, which is more stringent that the current Euro 5 mandated emission level in Australia.
It is teamed up with quick shifting 12-speed Automated Manual Transmission with crawler mode that Stephen describes as smooth, responsive and quick-shifting.
He was encouraged to choose the Fuso partly because of a 1998 FV549 Fuso that never missed a beat. "I loved that truck and hardly put a spanner on it and I had it for 14 years," he says.
Even so, the generous manufacturer warranty that came with the Shogun 360, which covers the truck for five years or 500,000km, whichever comes first, was also a big plus, just in case something does go wrong.
"The warranty was significantly better than the other trucks I was considering, by quite a margin," he says.
Mr Gray explains that, he reckons a decent warranty is something every truck should come with.
"I'm of the view that if you buy a new truck, you shouldn't have to put your hand in your pocket, other than for servicing, for years," he says.
So, how does Mr Gray rate the Shogun now that he's had it on the road for a few months?
"Ten out of ten," the 65-year-old says without pause. "I wouldn't hesitate to get another one."