Team Global Express orders 24 zero-emission Fuso eCanters for electric delivery project

Team Global Express (TGE) will introduce 24 all-electric Fuso eCanters as part of a bold carbon reduction project in Sydney.
The pioneering eCanter is the first electric truck from an Original Equipment Manufacturer in Australia and the only electric truck in its class to feature active safety features.
The eCanters are part of a five-year TGE electric truck trial that also includes the installation of 63 chargers on site and a large battery system to store energy generated by a 400kW/h solar power generation system at its Bungarribee depot in Sydney's Eastern Creek.
The zero-emission vehicle trial has been made possible thanks to a $20.1 million Australian Renewable Energy Agency (ARENA) grant drawn from the federal Driving the Nation Fund. TGE will also invest $24.1 million.
The near-silent Fuso eCanter is currently in operation with leading brands including Australia Post, Bunnings, Coles, Centurion and Toohey's.
Daimler Truck Australia Pacific President and CEO, Daniel Whitehead, says the Team Global Express project is a great example of carbon-reduction in action.
"We are thrilled to partner with Team Global Express for this exciting project, which represents a dramatic step forward on the journey towards zero emission freight transport in Australia," he says.
"This ambitious initiative shows what our industry can achieve with positive government policies and agencies like ARENA. We have no doubt this ground-breaking project will provide inspiration for many operators in Australia and are pleased the Fuso eCanter has been recognised as the best truck for this role," Mr Whitehead concludes.
Team Global Express Group CEO, Christine Holgate, says the announcement of the electric truck trial represents an important milestone.
"Today is an important step toward progressing Australia's pathway to reduce scope 1 emissions and secure a net zero future. This is the first project of its scale in Australian logistics, as such we are in a unique position to work closely with ARENA to share the knowledge we gain and provide this vital information for the benefit of the entire transport and logistics sector," she says.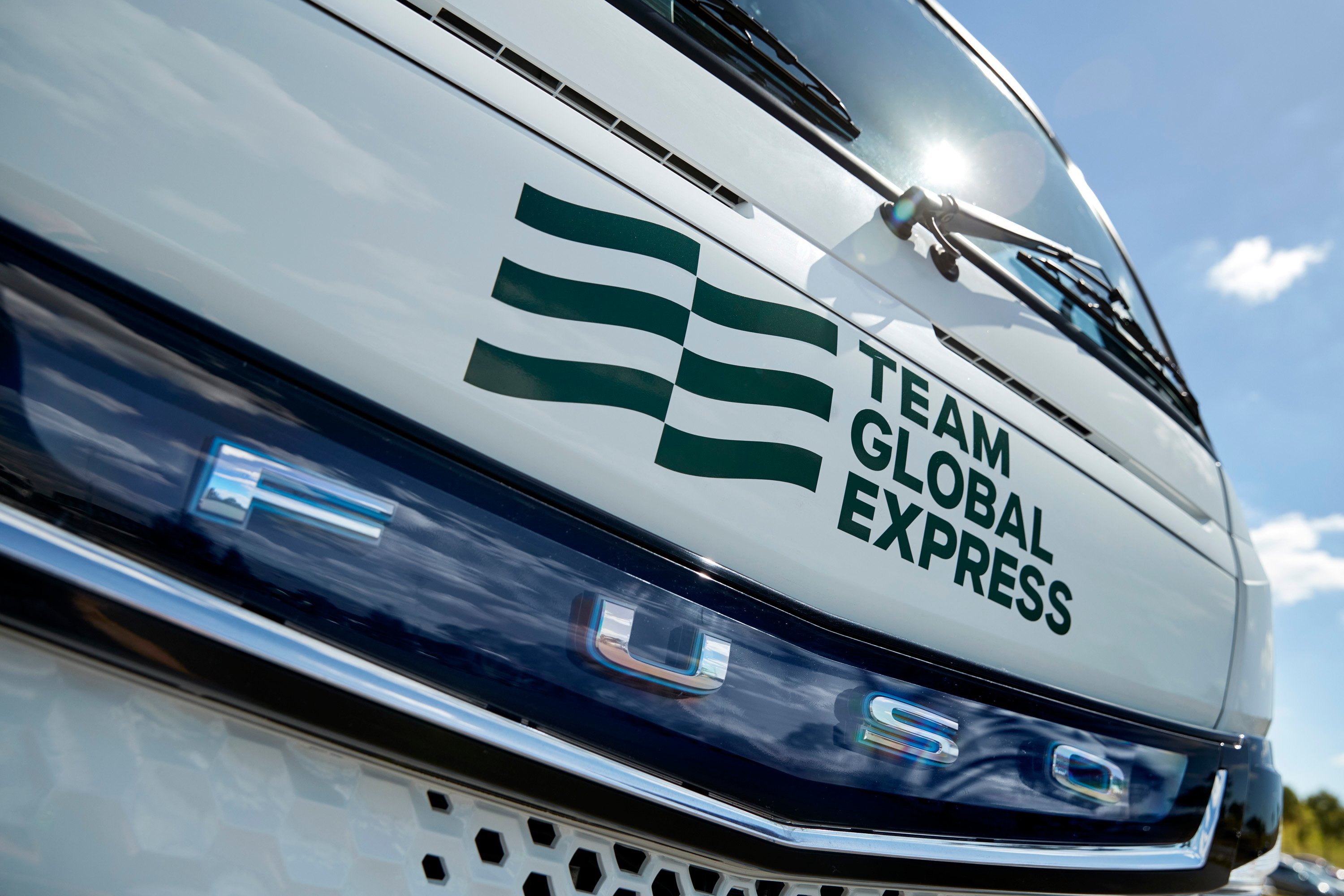 Team Global Express Sustainability Director, Heather Bone, says the electric truck trial has come about thanks to a determination at TGE to drive down emissions.
"Our team is fully committed to the electric truck trial and are thrilled that it has come to fruition," she says.
"Our customers are demanding greener solutions and we are delighted to be able to deliver actions like this," Ms Bone concludes.
TGE has real-world experience running the Fuso eCanter, with three units currently operating in its New Zealand fleet.
The Fuso eCanter is designed for local distribution in high-density urban areas and uses six liquid-cooled lithium ion batteries with 82.8kW/h of electricity that feed a permanent magnet synchronous motor. Power output is rated at 135kW, while 390Nm of torque can be delivered the moment the accelerator pedal is pressed.
The eCanter is the only electric truck in its class to feature active safety features. It comes standard with Advanced Emergency Braking System (AEBS) and Lane Departure Warning System (LDWS), which are increasingly important for leading companies and government bodies with a firm focus on health and safety.
The eCanter is part of the Daimler Truck commitment to ensure all new vehicles in Europe, North America and Japan are "tank-to-wheel" CO2-neutral by 2039.
Mercedes-Benz Trucks will begin local validation trials for the fully electric eActros and eEconic models next year, with an initial batch of six test trucks in Australia and two in New Zealand.
All Daimler Truck electric vehicles are engineered to meet Australian design rules and no PBS permits are required to operate them on public roads.
Fuso trucks feature diesel engines that align with or undercut the stringent Euro 6 emissions standards, which will not be mandated in Australia until 2024, as standard for medium duty Fighter, heavy duty Shogun and Rosa light bus.
Freightliner's Cascadia was the first conventional truck in Australia with the US GHG 17 emission rating (equivalent to Euro 6 under upcoming local emission standards), while Mercedes-Benz led the way by introducing Euro 6 on every single Actros model in 2016.