A Canter Can do What a Ute Can't For This Queensland Business

An acreage and property management company has grown its Fuso Canter fleet to four as the business meets increased demand.
Avagoodweekend Acreage and Property Maintenance provides mowing, gardening and irrigation services for substantial rural blocks and commercial properties in a vast area to the South West of Brisbane.
Business founder Dean Mason and family started the business in 2008 with just a lawn mower and a ute and has steadily built up the operation providing a reliable, high quality service and now employs six people.
Mr Mason says the business had initially been using commercial utes in addition to a Fuso Canter tipper, but soon found the utes were not up to the task.
"They say the utes can tow 3500kg, but they can't do it continuously," Mr Mason says.
"We had a range of issues with the clutches and gearboxes in the utes which are just not built for this type of work and we'd go through them after about three years," he says.
Mr Mason spoke to Kris Lubbers at Daimler Trucks Brisbane and decided to upgrade and add Canter tray models alongside the flawless tipper already in the fleet.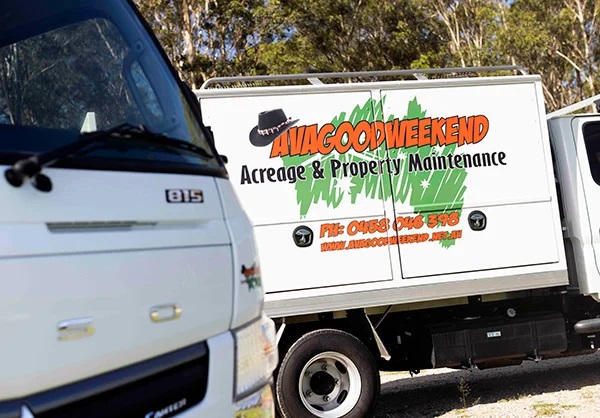 "The trucks are designed and built for this type of work and it just allows us to get on and get the job done," Mr Mason says.
"They are easier to drive than a ute with a trailer. They have a tight turning circle, great vision in front and around them," he concludes.
The Canter 515 trucks can all be driven on a car licence, which makes life easier for the Avagoodweekend team.
All are equipped with the latest active safety features including Advanced Emergency Braking System and Lane Departure Warning System, which are not available from a key rival truck, as well as a hill-hold assist feature, Electronic Stability Program and driver and passenger airbags.
Mr Mason says he values the standard safety features, especially the active systems of the Canter.
"It's simple, I don't want my trucks to be involved in crashes," he says.
The 515 Canters are all equipped with the Duonic dual-clutch automated transmission, which Mr Mason is extremely happy with.
"We prefer the Duonic transmission because the driver can just put it into gear and forget about it – it is something they just don't have to think about," he says.
Making the drive easier and safer is key for Mr Mason, especially as many members of his team have worked hard all day.
"The drivers get tired working on the tools, sometimes it can be 30 to 40 degrees out there, so I want to be as comfortable as possible and get home safely," he says.
The Canters are all on a comprehensive service and maintenance contract, which Mr Mason says makes running them very easy.
Like other Fuso Canters, Mr Mason's trucks are covered by a generous Fuso manufacturer warranty that covers the truck for five-years or 200,000km, whichever comes first.